---
"To have compassion and respect for every living thing
on this fragile and beautiful earth which we share is the most important thing we can do."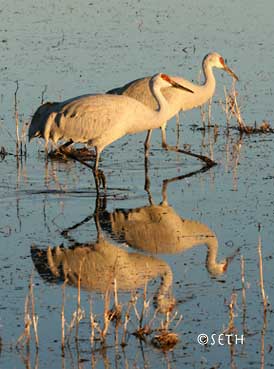 BirdSongGallery.com
Bosque del Apache National Wildlife Refuge
Sandhill Crane Pair Photo ©by Seth,
Bird & Wildlife Photography and Paintings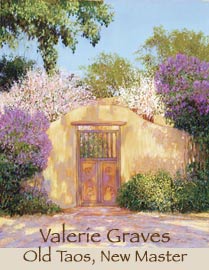 ©Valerie Graves, Taos Artist
Highly acclaimed oil and pastel artist
included in many private and museum collections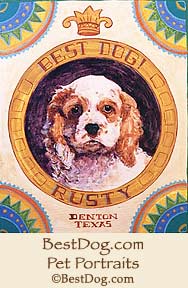 BestDog.com (next page)
Dogs, Cats, Horses, Fish Portraits
Pet portraits ©Valerie Graves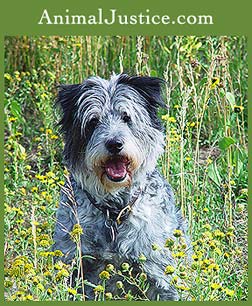 AnimalJustice.com
Your connection to a Humane
Respectful and Helpful World
Photo ©Seth

Transcendence Series
©by Seth
Contemporary Art
New Mexico
---
Graves' paintings are tremendously popular, and she is considered one of the few painters since the early Taos Founders of the 1920s who has captured the light and feeling and emotion of our beloved Southwest. Her oil and pastel landscapes of Taos, Santa Fe and the surrounding world glow with a love of the early dawn on Taos Mountain, the late afternoon light on the Sangre de Christos, the red winter willow light at the Bosque del Apache, the powerful night bonfires at San Ildefonso Animal Dance, and a love of the crisp blue sky and the constantly changing colors in the fields and mountains and valleys of our world. TaosArtist.com


---
Powerhorse.com wishes to recognize the tremendous contribution to the Arts in New Mexico by Laurel Seth. Her gallery, The second generation Laurel Seth Gallery was a tremendously popular gallery for over 18 years, and was often praised as a "REAL" Santa Fe gallery - unpretentious, informal and honest with a wonderful selection of fine Southwestern art in all price ranges. The Laurel Seth Gallery showed paintings from the early Taos Founders and the Cinco Pintores, and had a wide selection of traditional Southwestern paintings and sculpture. She also featured paintings by recognized and emerging artists. Her gallery is now closed, but her contributions live on, and her many friends, artists and customers happily await what she will contribute in the future! powerhorse.com/sethgallery


---
Wilder Nightingale Gallery
119 Kit Carson Road, Taos, NM 87571
575-758-3255
---

Photo © Seth, All Rights Reserved

Paintbrush Miniature Horses
Multi National Champion Miniature Horses
is a Small, Small farm with a BIG, BIG record, winners of 25 AMHA National & Reserve National Championships, 5 Honor Roll Wins, Over 65 AMHA National Top Tens & Over 50 AMHA National Honor Roll Top Tens! They have wonderful miniature Horses who are Champion equines in both halter and driving, and they have striking, elegant, refined, well-balanced, beautiful headed foals for sale. This lovely, multi-page site has lots of interesting information on Miniature Horses in general as well as many pages on a variety of Paintbrush Miniature Horses, including the Legendary Cowboy Del, the internationally beloved palomino Miniature Horse Stallion, and Paintbrush Navajo Night Chant, a black and white multi generation pinto stallion and the first miniature horse tested for the homozygous pinto gene. Paintbrush Miniature Horses has an extensive collection of helpful horse and general equine and equestrian links, too!
---
We hope you will have time to visit the sites above!
Thank you!


www.POWERHORSE.com


Copyright 1995-2015 ©Paintings, Valerie Graves; © Horse Driving, Scott Trees; © horse and dog, Seth; © graphics, Horsepower Graphics. No photos or graphics may be taken from this site and used for any purpose or in any medium, Thank you.